Auracle Sound Ltd.
About Auracle Sound Ltd.
Auracle Sound was founded in 2007, the partnership of an artist agency and music consultancy, Auracle Sound became an early pioneer in the world of IP audio streaming.
Today our service has helped hundreds of retail, leisure and hospitality businesses across the UK and EU to broadcast commercially licensed copyright music using robust and reliable internet streaming hardware technology.
Auracle Sound has moved with the times expanding it's selection of music channels, App and Web Player software. We have also integrated with other Sonos and Singa Pro in-App solutions to bring a wider range of wireless and Karaoke solutions for venues.
Auracle Sound GmbH office in Berlin, supplies the same standard of high quality licensed music streaming to businesses across Europe.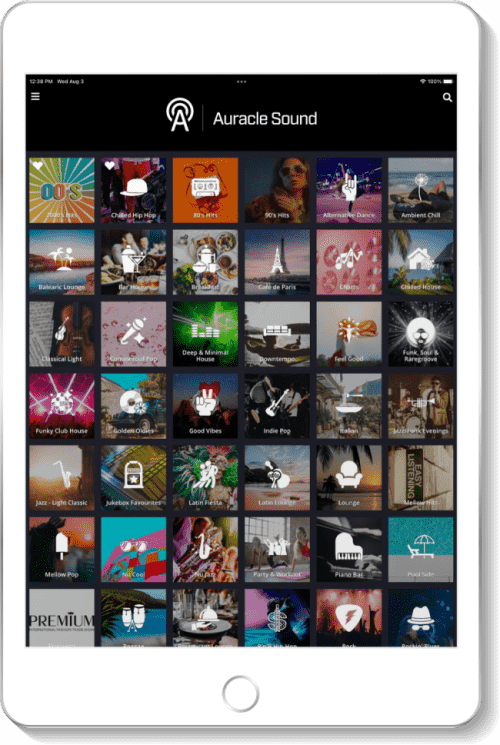 Software players
Auracle Sound's software solution offers a convenient and cost effectiveness way to subscribe to our commercially licensed music streaming service. Giving you instant access to the browser based Web Player or  iOS/Android Apps for tablets and phones.
We Work With People Like You
Numerous studies have demonstrated the benefits of background music; increasing sales by extending dwell time, elevating the customer experience, or improving traffic flow through your business. As with other ambient factors such as architecture, interior design, lighting, heating and scent, music is a key indicator of a businesses brand.
Background music within retail environments can masks the sounds of voices or movements helping to create a personal space for customers to browse and makes talk to friends or family. Within restaurants classical music can create an 'upmarket' more discerning atmosphere in the same way that good quality linen or heavy cutlery will boost spend so will classical music. For bars studies have shown that music at louder volumes can increase drink consumption and turnaround.
These are obvious observations built up by years of consumer behaviour studies, using music to create the mood in stores and restaurants: hip-hop for streetwear stores, classic rock in diners and string quartets in sophisticated restaurants. But in a world where 'Shazam' is a verb and people have access to unlimited music libraries online the average listener's taste is more educated than ever, often creating their own playlists and developing complex tastes.
Big data is following this relationship between music tastes and business in analysing music listening patterns and consumer spending patterns. The correlation between the two matching music tastes with buying patterns and is becoming a powerful predictor of consumer behaviour.
Matching the demographic of your customers with your music-branding is more important than ever, knowing your customer tastes and appealing to them and sends out a clear message in your music schedule that aligns with your product and setting to creates a congruent message that attracts your customer. Welcome your customers back with the perfect playlist for your business today.
Compact IP audio receiver with Bluetooth App
Choose one of our IP audio receiver units for the ultimate in reliability and peace of mind. Our dedicated set top boxes are designed specially for commercial application.